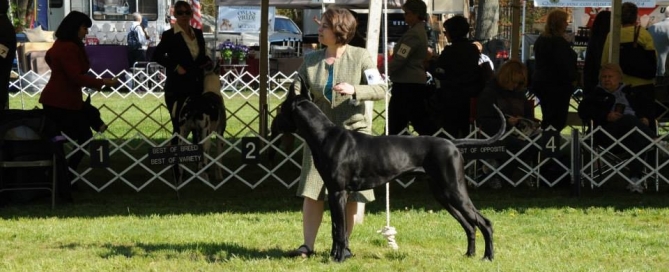 My name is Jennifer Celeste and I have had a love of dogs since I was a young girl.  It all started when we went on a family vacation across the USA in an RV…yes, very similar to the Chevy Chase Vacation movie!  My mom stayed home for the first leg and then flew to California to meet us for the trip back.  I think we made it to Chicago before we got the dreaded call that my pet chameleon and my brother's pet hamster had died.  After a brief period of grieving, my brother and I plotted together on how we were going to get a dog…..and that's where it all started!
Experience & Education
In 2010 I graduated from JKL Grooming School and worked part-time in a local dog grooming shop to get some much needed hands-on experience before doing house call grooming in January 2011.  By November 2012 I liked grooming so much I flew to South Carolina to buy my first grooming van – her name was Bertha!   Buying the grooming van was the best decision ever…everything is self-contained,  all my tools are within arms reach and it is very comfortable work environment.  In May 2013 I received my Certification by the National Dog Groomers Association of America (NDGAA) for the Sporting Breed and I continue to attend dog grooming seminars to keep up on the latest trends and to work towards my Master Groomer Certification.  In March 2016, my new grooming van (Princess Atta) was born and put into service and Bertha went on to live in West Virginia with her new owner.  In March of 2021 I began the process of becoming a Certified Pet Aesthetician through Iv San Bernard's and completed the last module in April 2022.
After having three Great Danes, I got a Bichon Frise to improve my grooming skills and certify in the non-sporting breed category.   After many delays  due to the pandemic, she hit the show ring in November 2021 and by the end of March 2022, she earned her American Kennel Club Grand Championship. Many of you know Fiona, as she often rides with me during the day….my opinionated co-worker also know as Saucy McMuffin!
Area Served:  North Wilmington / Greenville, DE and Garnet Valley Area in PA.
Call us at 1-302-415-2104 or contact us today to get started.